Group A:
Qatar loses its second game but gets its first ever goal. Senegal wins 3-1. The Senegalese fans are the most colorful and have by far the best dances of any fans !
The Netherlands scored first within 10 minutes but Ecuador were the better team for the rest of the game. They equalize at the start of the second half and the game ends in a 1-1 tie. Ecuador's Ennen Valencia becomes leader of golden boot competition with his third goal.
Group B:
Iran shocked the world by beating Wales 2-0 in a hard fought match. The game changed when Wales was downgraded to 10 men when their goalie was red-carded for a big challenge in the 85th minute. Iran scored two goals in the time remaining to crawl out of the group cellar after having been shellacked by England 5-2 in the first game. This was a victory for the Iranian people, who have suffered greatly under a repressive regime for decades and who are once again being killed and repressed by the government since protests have swept the country after 14 year old Amini's death while in the custody of morality police a few months back. Pro and anti-government protesters clashed at Ahman Bin Ali Stadium. The team has been criticized in Iran by pro-regime supporters for refusing to sing the national anthem. The team sang it before the Wales game and came out with greater intensity than the Welsh. Iran was desperate for a win since a loss would have eliminated them from the Cup. They may have also come with greater emotion due to the internal turmoil being experienced inside the country. Fervent nationalism can cut both ways. In the World Cup national pride usually overwhelms anything else but this is a unique situation. Many fans expressed their support for the team by chanting anti-regime chants from their rooftops before the start of the England game.
https://www.espn.com/soccer/ir-iran/story/4813286/iran-supporters-confront-protesters-before-wc-game-vs-wales
The headline before the game was that England had NEVER beaten the US in a World Cup game !! How could that be possible ? In 1950, the US shocked England 1-0 and in 2010 the teams tied 0-0. In 2022, they tied 0-0 again. The US was the better team, Pulisic hit the crossbar, the US created more chances, and had more corners. England looked pathetic after the first fifteen minutes. The game was hyped for days and it turned out to be a pretty awful tactical affair. The US showed more initiative and deserved to win.  The scenario is now pretty simple. The US need to beat Iran to go through. Iran goes through with a win as does England. Wales can move on with a win over England with enough goals and hope that Iran beats the US.
Group C
Poland defeats Saudi Arabia 2-0. Lewandoski gets his first ever WC goal in the 83rd minute against the run of play. Saudi Arabia has better possession and the most spirited play but Poland actually the better chances though as they also hit two posts. Lewandoski also missed a chance on the verge of 90' on a one and one with the keeper.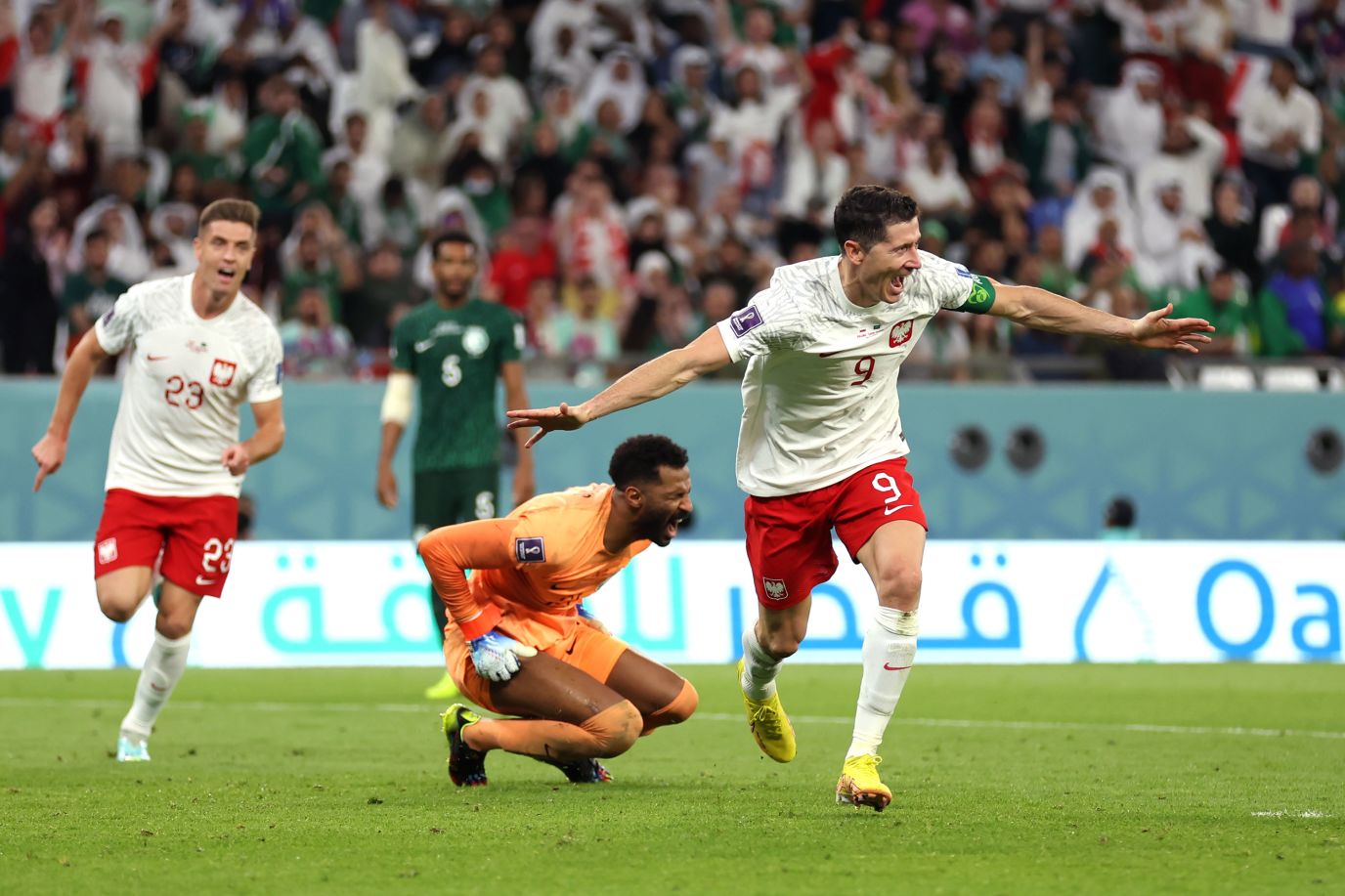 Mexico and Argentina have played each other three times in the World Cup and Argentina has won all three. There's a little known 1930 match in the group stage of the very first World Cup that was won by Argentina 6-3. Guillermo Stabile scored three goals in a match that had 3 penalty kicks. Argentina made it to the final but lost to Uruguay 2-1. Then there was the instant classic in 2006, a back and forth affair that was settled by Maxi Rodriguez in extra time with what has to be one of the best goals in WC history. A true moment of magic. Who can forget that amazing chest trap received from a cross-field pass to a half volley that curved away into the upper left hand corner of the goal, barely eluding Oswaldo Sanchez's dive. A divine goal, a goal for the ages. Another soul crushing defeat by Mexico in the Round of 16. Another victory by the Albiceleste. Their 2010 meeting was also a pretty good game but Argentina won this more handily 3-1 with a controversial goal scored by Carlos Tevez, who was clearly offside when he received the pass that led to his goal.
And now in 2022 both teams arrive headed to another classic confrontation. Argentina faces a must win situation after losing their initial game 2-1 to Saudi Arabia. A loss would eliminate one of the tournament favorites. On the other hand, Mexico tied Poland 1-1 and can still qualify even with a loss (they'd have to beat Saudi Arabia and hope that Argentina beats Poland).
All of the past history indicates that this will be another classic.
https://www.theguardian.com/football/2022/nov/26/world-cup-2022-briefing-what-history-tells-us-about-argentina-v-mexico
NOTE: Sat. Nov. 26, 2022 will rank amongst the greatest of sports days in history, only to be rivaled by June 2010 when three World Cup games were played the same day that Boston and LA played Game 7 of the NBA Finals. Four World Cup games, 2 great football teams (Michigan vs. Ohio St., Minnesota vs. Wisconsin), and Argentina vs. Mexico.
Argentina beat Mexico again. Messi finally broke the scoreless jam in the 64th with a beautifully placed low hard shot to Ochoa's left post. In the 87th minute, Enzo Fernandez danced around two Mexican defenders in the box and curled it past Ochoa, this time high into the net. Ochoa was beaten once on the ground and once in the air and didn't have a chance on either shot.
In the first half, this game matched historical expectation.It was back and forth with both teams having equal number of chances if not possession. But something happened in the second half to the Mexican team. They approached it much like England did their game against the US and seemed content with the nil-nil tie. The tactic failed miserably as Argentina pushed forward in waves before finally getting the result.
I'm an ardent Mexican fan. It is my birthplace and soccer roots are deeply grounded. Loyalties don't die easily, even after not having lived in the country the majority of my life. When Mexico play the US, I always, always root for Mexico. But in this case, I also want Messi to win a World Cup, and a loss in this tie would have killed that hope. I would have been more content with a tie, as both teams then would have been able to get out of the group by winning their third game. But it was not to be. Unlike other years, I'm not shattered. My emotions apparently were shared by others. One fan had a dual jersey, half Argentinian and half Mexican, with the name Messico on the back.
Mexico are not mathematically eliminated. But they now need a footballing miracle. They need to beat Saudi Arabia and need Argentina to beat Poland by enough goals to overcome their -2 goal differential. Since Mexico hasn't scored in this World Cup (in fact they are scoreless in their last four!), this seem to be a gargantuan task. But not impossible.
Group D
Australia rebounds from their 4-1 thrashing against France and beats Tunisia. For the second WC in a row, the Tunisians played attractive, technical, and spirited football but come up short, evoking Socrates (Brazilian not Greek): winning or losing is not as important as beauty.
France beat Denmark 2-1 with two goals from Mbappe. The French were the team with the most injuries to their major stars. It hasn't showed.  They look unstoppable.
Group E
Would you believe it ! Do you believe in miracles ! In World Cups, there's an old saying that after a great victory, there's a great defeat. For Costa Rica, this was exactly the reverse. After a great defeat, there was a great victory.
After getting thoroughly humiliated by Spain, the Ticos somehow rebounded to grind out a 1-0 victory against Japan.
Keysher Fuller scored on a counter in the 81st minute with a seemingly innocent chip over the Japanese goalmeister Onada, then hung for dear life as Japan searched for the equalizer. They almost got it in the 89th minute but Calvo stopped a clear goal on the line before the ball bounced innocently to Navas.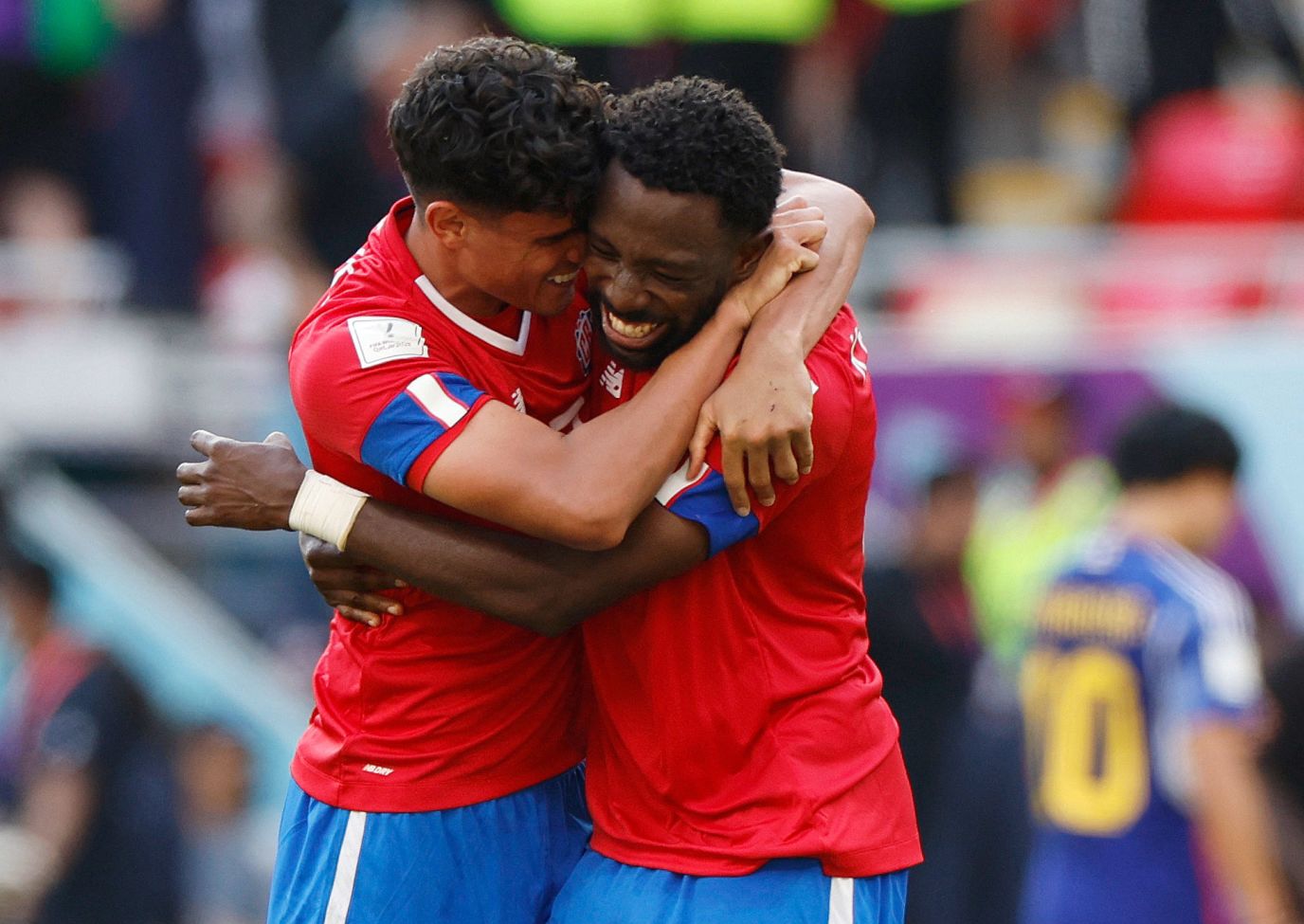 Spain and Germany tied 1-1 in a classic European match. The ageless Jordi Alba had the assist to Alvaro Morata for a classy finish in front of Neuer. The Germans equalized late from Fullkrumer's thunderous volley. Spain on top of the group; Germany avoid a disastrous early exit from the group stage for a second consecutive World Cup. Spain, while they would have loved the 3 points, now have to play the bipolar Japan. Which Japan team will show up ? The one with the inspiring victory over Germany or the team that was beaten by Costa Rica ? Germany now play the inspired Ticos. Best bets are that the two European super powers advance with wins.
Group F
The football gods are quirky. How else to explain Belgium's lackluster performance against Morocco today. They generated chances, had a total monopoly on corners (9-0), but they seem to play devoid of energy. Morocco had a goal disallowed in the first half due to an offside, but late in the game, they scored in a shockingly similar way to their annulled goal. A cross bounced in front of Courtois and past him into the goal without the Moroccan player even touching it. So trailing 1-0 in injury time, Belgium seemed content to kill off the game with a loss ! The passed the ball around aimlessly and without energy in their backline instead of with any urgency. In that moment, Morocco stole another goal when Ziyah took a ball in the box, twisted and turned and crossed back to a teammate who struck the ball high into the corner past a stunned Courtois.
Canada scored their first World Cup goal ever in the first minute of the game. Unfortunately, that was the peak for the Canadians. Croatia scored 4 unanswered to eliminate Canada from the World Cup.
This leaves Morocco, Croatia, and Belgium still alive.
Group G
Here in the US CST timezone, ignore the 4am game at your peril. Cameroon took a 1-0 on Serbia before Serbia hit with three unanswered to take a commanding 3-1 lead. Have no fear for the Indomitable Lions roared back with two unanswered of their own to tie 3-3. The last two appeared to be obviously offside but the hypertech visualization technology clearly showed that they were not.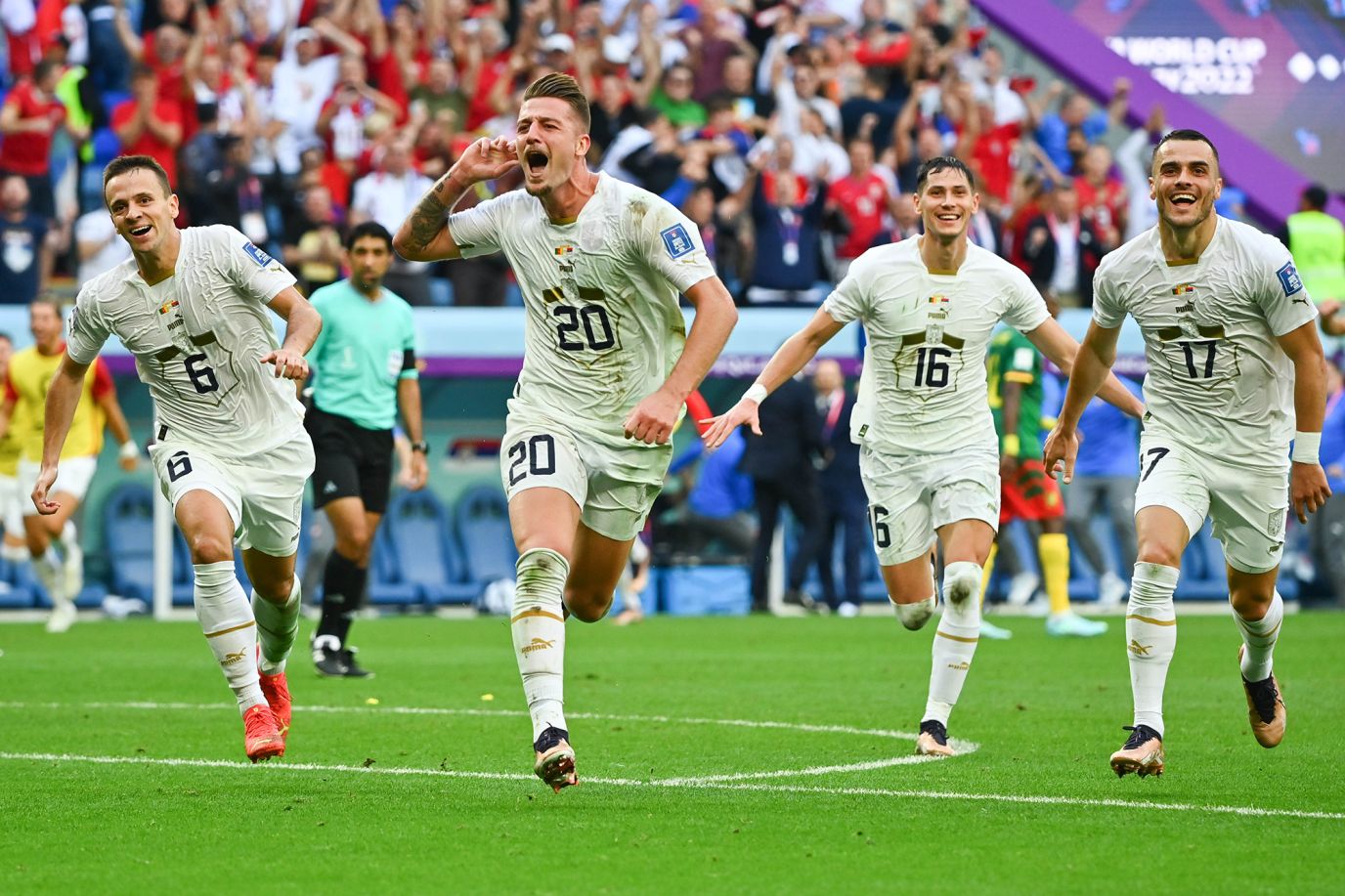 Goals are what everybody wants to see, what makes this sport so fantastic, and games with lots of goals are better than games with little goals. In my eye, bounty always trump scarcity. By far the best game of the tournament. This also produced some of the best commentating. On Serbia's third goal, a beautiful team goal, the commentator said; "That's one of the finest team goals you'll ever see. The composure, the presence, the calmness." On a cross from Serbia that went rolling through the box: "That ball was in the corridor of uncertainty."
Speaking of indomitable, Brazil looked unbeatable today. Even without Neymar, Brazil generated not only beautiful football but also a result with a 1-0 win against Switzerland. Casemiro, El Tanque, scored off a beautiful volley late in the second half. Brazil generated multiple other chances as well as their trademark set of beautiful passes, flicks, pop-ups, and other elements of the jogo bonito. And if you think Brazil is all about offense and stye, think again. They haven't allowed a shot on their net in two games. That's impressive defense as well. What is it that they say about defense ? Something it about winning championships ?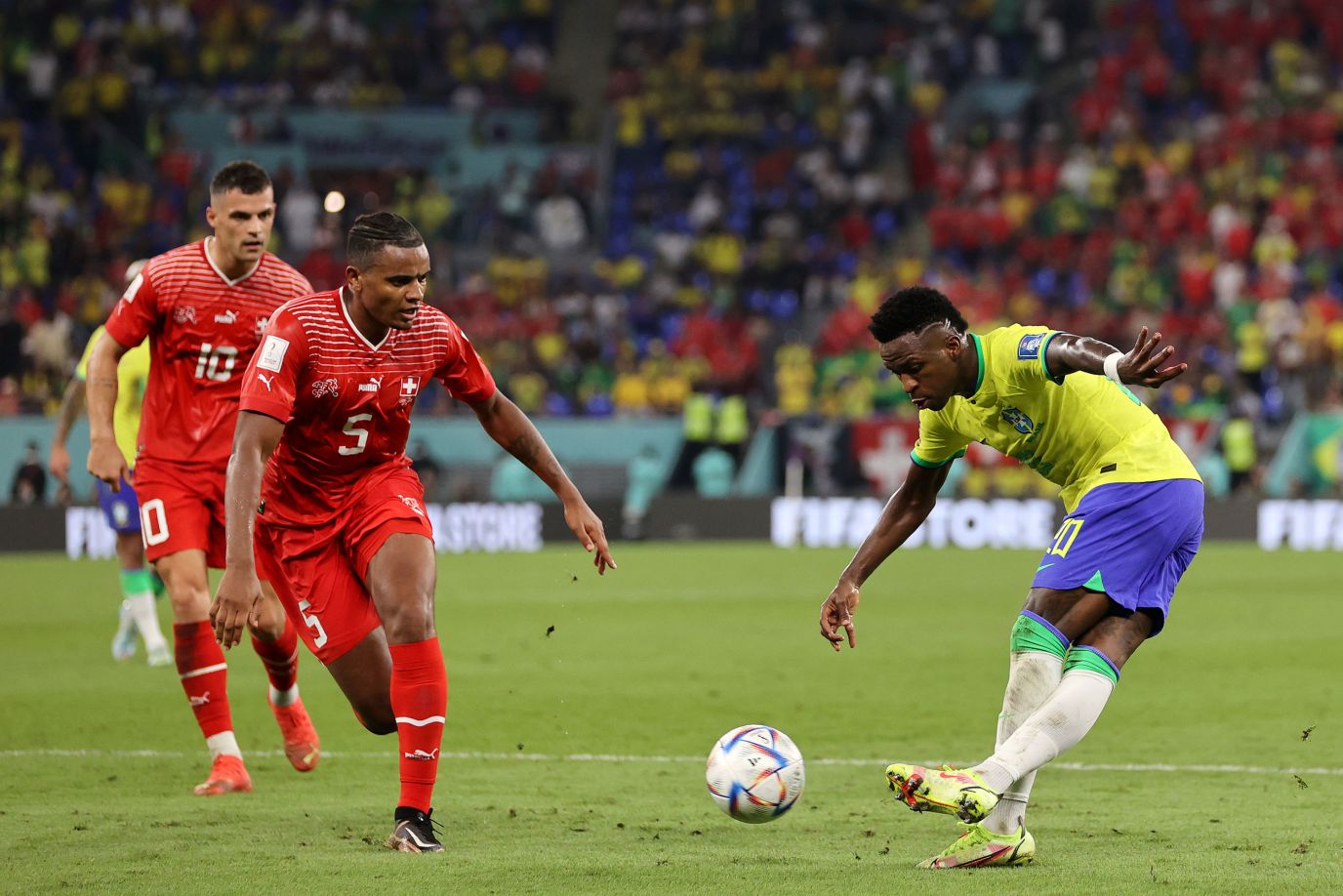 Brazil are a fine tuned machine all over the pitch. I'll reiterate, if they keep playing like this, Brazil will win the World Cup.
Group H
Ghana survived a South Korea siege early on (ample possession and a bunch of corner kicks) to score two goals. But the Koreans scored two goals in a span of three minutes in between minutes 58-61 in the second half, both off headers from the left flank. (Wait, just a random thought, borne out of this stream of consciousness reporting style, are the Black Stars coached by Idris Elba ?). In 69' a cross came in from the right hand side, where a Ghanaian player whiffed on the shot and it fell to a teammate who shot it hard and low for the go ahead goal. Was that a shot dummy ? Probably not, but it had the same effect. After the Ghanaian go ahead goal South Korea attacked incessantly, spiritedly in search of the equalizer. Apparently both teams got the memo from FIFA. We need more goals, more excitement, more cowbell ! The last ten minutes of this game were by far the most exciting of the tournament. In possession of the ball for the entirety of the injury time, Korea attacked with almost existential fervor. Tottenham's HeMuin Son on the left serving up crosses (since when do the Koreans score or seek to score so much with their heads !) and shots in search of the equalizer. Korea backed up all ten Ghana players into their box but could simply not score the equalizer.
Portugal beat Uruguay 2-0 (both goals by Bruno Fernandez) to clinch their spot in Round 2. Portugal had more shots, more corners, more football. Uruguay had more fouls. Only when they were down 1-0 did Uruguay start to play a more attractive style of attacking soccer, hitting the woodwork as time ran out. Ronaldo had another inspired game. He didn't score but he ran, he defended, he hustled his ass off. The man is, as the kids say, class.
At the end of the second set of games, only Qatar and Canada had been eliminated. Portugal, Brazil, and France have made it into the knockout round. Twenty-seven teams still have a chance going into the 3rd game.