Argentinians get revenge.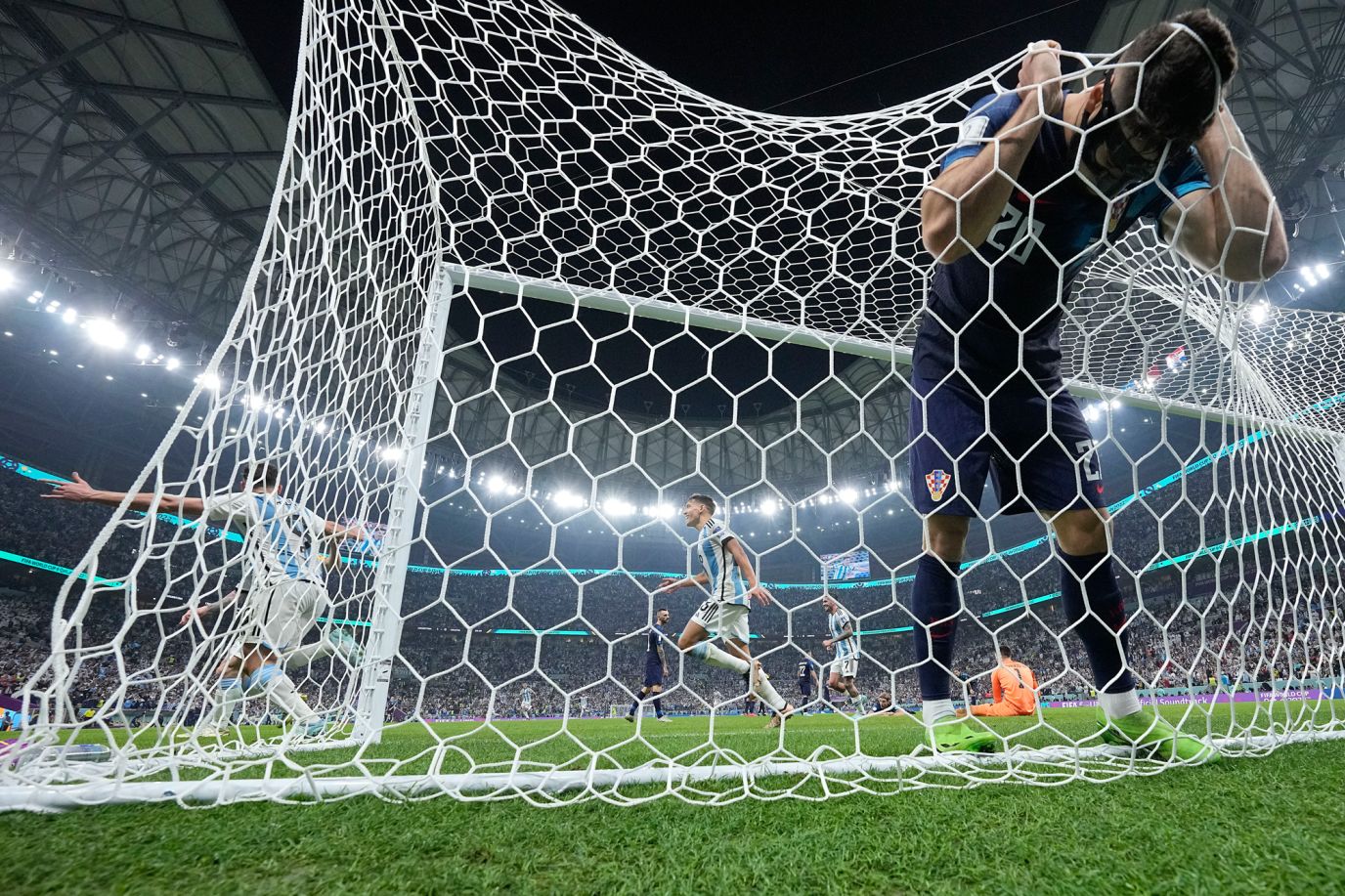 How things have changed in four years. In the 2018 World Cup group stage, Croatia handed Argentina one of its worst losses in a World Cup, beating them 3-0 in the second group game. Croatia would go on to win all 3 games and make their incredible run all the way to the championship game before they finally succumbed to France.
The memory of that game must have been well imprinted on the Argentinians before this match. Croatia continued their excellent form in this tournament. They didn't lose a game in the group stage and they then won their first two knockout games by penalties just like they had in 2018.
Just having beaten Brazil, they looked poised to slay the other South American giant.
Except that Argentina was having none of that this year. Scaloni, Argentina's manager, made one minor tweak to his formation. To counter Croatia's excellent midfield play, he inserted an extra midfielder using a 4-4-2 formation, having DePaul, Paredes, Fernandez, and Mac Allister just behind Messi and Alvarez.
This tactical formation worked wonders. After a tense first 15 minutes, Argentina started to gain control of the ball. The midfielder provided the service and Alvarez and Messi both started to threaten.
In the 34th minute. Alvarez latched on to a pass from Enzo Fernandez and dribbled into the 18 yard box where he was brought down by Croatia's keeper. Instead of a slow run up that he's used before, and which has become more customary amongst penalty takers.With Modric looking on in the background, Messi eschewed the slow run up that he's used before, and which has become more fashionable, and simply smashed the resulting penalty into the right side of the net past a diving Livakovic to open up the scoring. The moment didn't call for finesse. It called for power. Messi made a statement right then and there.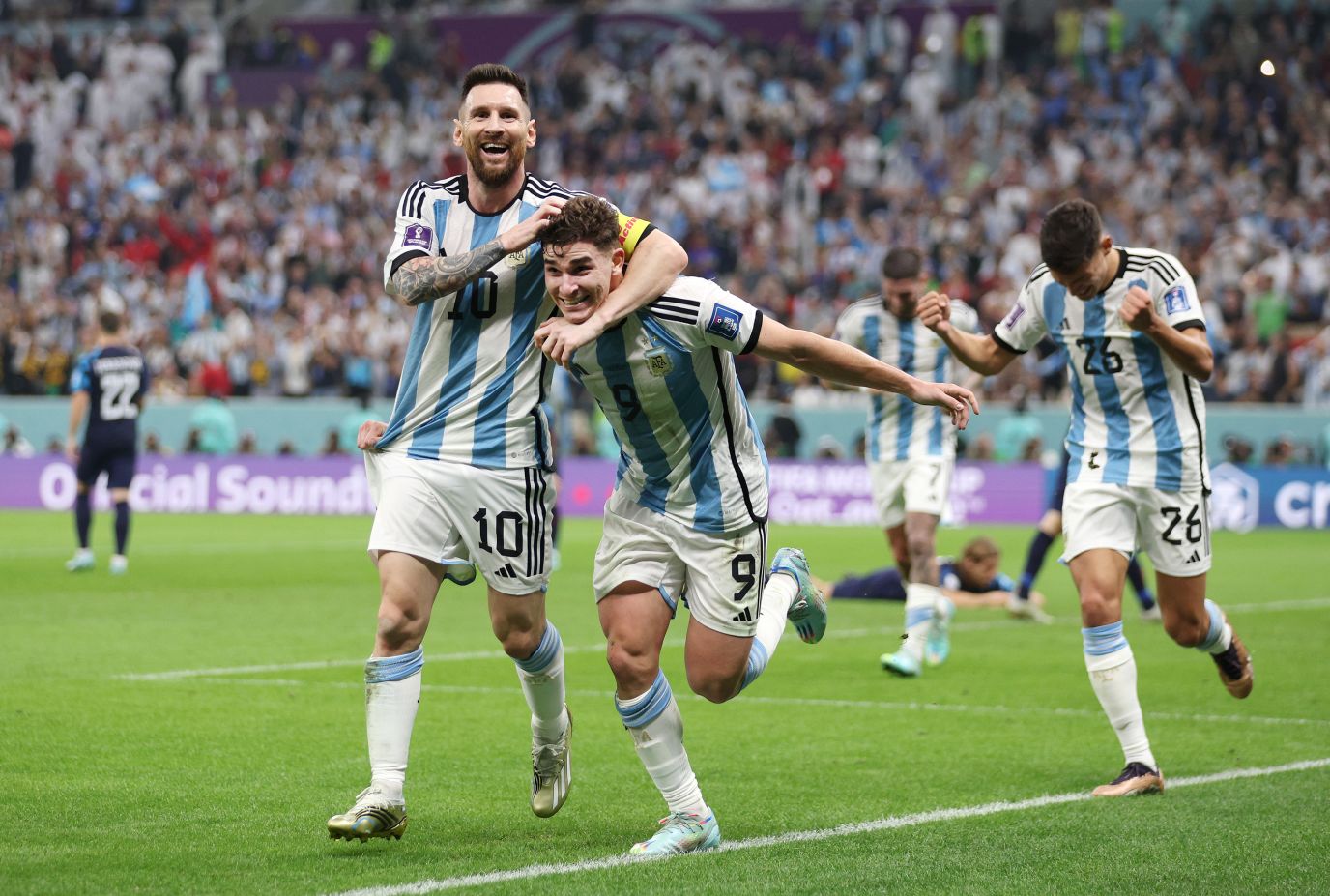 Just five minutes later, Croatia threatened with a free kick. That was cleared by the last line into an open space, where Messi just managed to touch the ball forward ten yards behind the center circle. Julian Alvarez, the other part of the Argentinian attacking 2, latched on to Messi's pass and sprinted towards the Croatian goal with the ball tethered to his feet with three defenders in pursuit. A teammate raced ahead of him almost as if to create interference as Alvarez weaved his way forward. After two fortunate deflections, he found himself one on one with the keeper and scored the second goal. As my favorite Spanish TV announcer, Luis Omar Tapia, would yell: dos a cero !
Before the half, Livakovic came up with a huge save off of a Mac Allister header that would have iced the game. That moment would have to wait until later.
In the second half, Messi did something I just didn't think he was capable of any more. Taking the ball off of a simple throw in on the right hand side, he dribbled his way all the way down the sideline into the edge of the penalty area. Shielding the ball like no one else is capable of and using a series of twists and turns, he managed to work his way around masked defender Gvardiol and fed a perfect pass that nutmegged another Croatian defender to Alvarez for the simple put in. Another outrageous pass, but this time after another amazing dribbling sequence. Tres a cero !
Argentina, up 3-0, were not about to lose this game. There would be no magical comeback for Croatia, no collapse from Argentina. Up 3-0, Messi and company would not allow any of that to happen. Not this time.
After the game Messi said: "Throughout the World Cup it has been incredible what we have experienced. We are going to play the final which is what we wanted."
Now in the championship game, Argentina awaits the winner of France versus Morocco. Argentina was eliminated in 2018 by France 4-3 in what was an incredible back and forth game. Revenge against the French, if they can get there, would be sweetest of all.