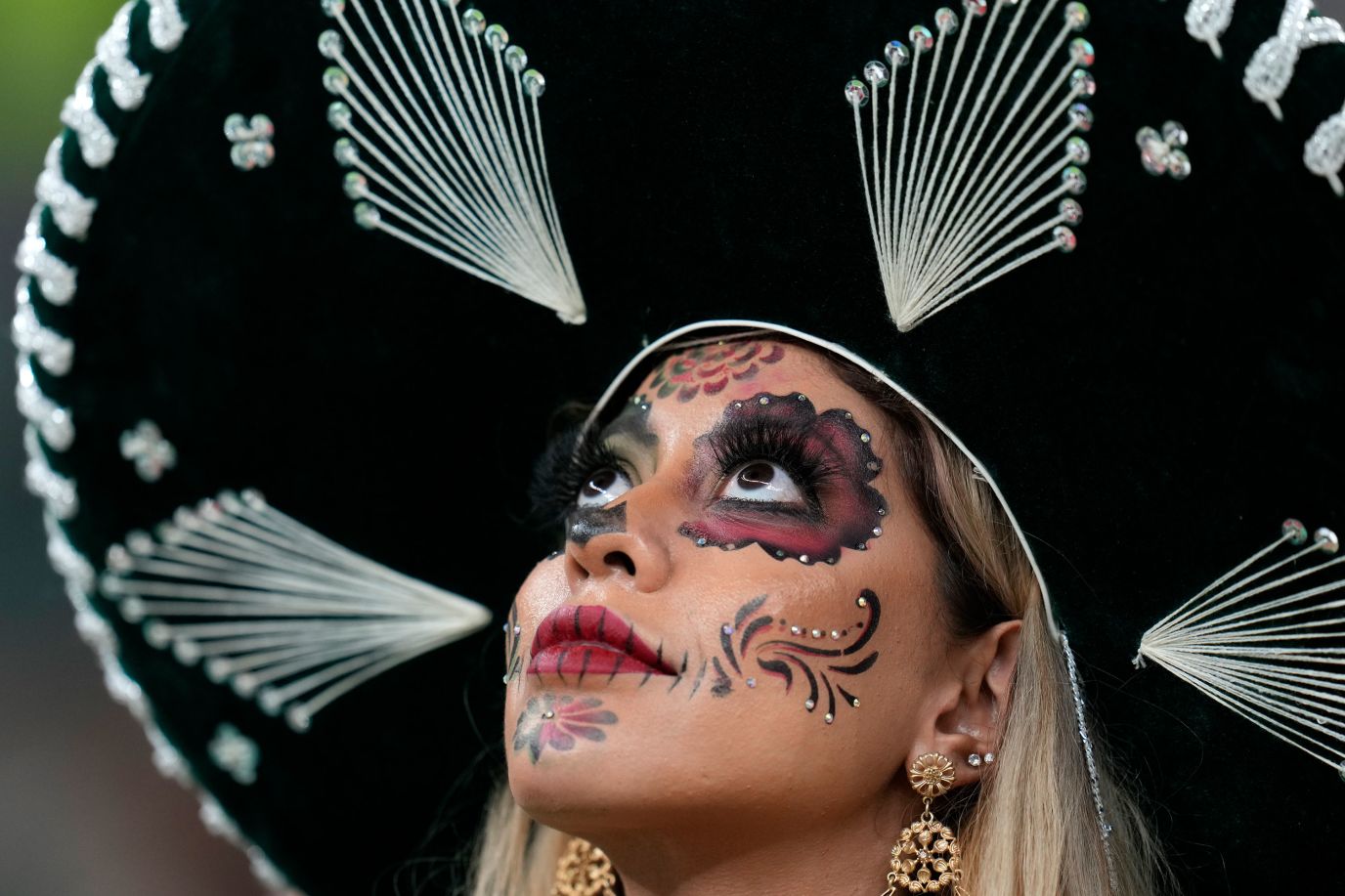 Remember the earlier thought about joy and bliss ? The ecstasy ? The first two games are all about the hope, the excitement, the opportunity. The third game is when reality comes crashing down. With only two teams being formally eliminated by the third game, this is the ultimate moment of truth. That the games are simultaneous multiplies the drama. Hard-core viewers (like yours truly) now have to watch the games at the same time (more on that later), but the added tension tends to induce figurative and real heart attacks. Ouch ! Got to love the World Cup. Ecstasy if your team moves on; agony if it does not.
Group A
The Senegal Ecuador was a ping-pong of a game. Not for the faint of heart. Senegal took the lead via PK at the end of the first half. They're in. Ecuador got the tie at 69'. They're in. Senegal scores 2'37" later. They're back in. Wheew ! Ecuador never got another one. They're out of the Cup ! Heartbreak on the field for the Equatorians.
Netherlands beat Qatar 2-0. Qatar went winless in three games and only scored a single goal. Did we really expect anything from this tiny country with no footballing culture or experience ? Money cannot buy you World Cup team.
Netherlands 2 – Qatar 0
Senegal 2 – Ecuador 1
Netherlands (1) and Senegal (2) move on.
Group B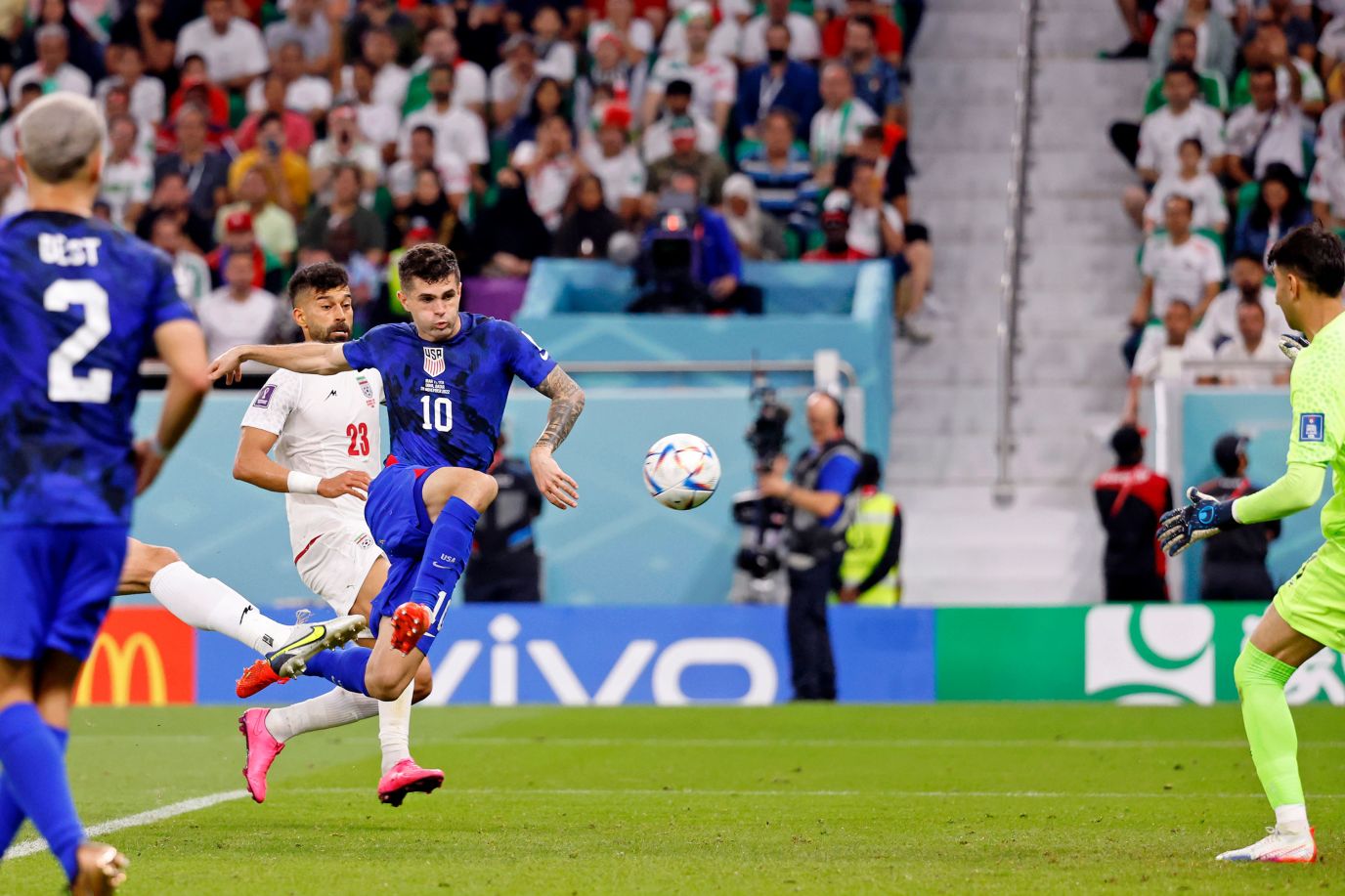 The US thoroughly dominated their game against Iran in the first half. In the 39th, McKinney passed the ball to the right to a surging Serginho Dest who headed the ball back into the "corridor of uncertainty" where Captain America Christian Pulisic sacrificed body and limb beat two Iranian defenders to the ball and scored. Pulisic was injured in the play and laid down in the Iranian goal for 5 minutes afterwards but eventually came back. Uno a cero ! The US, with that result, was advancing into the next round. The US dominated until about the 70th minute, when Iran finally decided to possess the ball. The last 30 minutes (10 minutes of stoppage time) seemed like an eternity and it just seemed like a foregone conclusion that Iran would score, but the fact is that they only had one real shot so in the end it was all really just like a bad nightmare.
USA 1 – Iran 0
England 3 – Wales 0
England (1) and US (2) qualify for the next round.
Group C
Mexico needs a miracle to go through. They need to win and score a bunch of goals against Saudi Arabia (tough for a team that hasn't scored one) AND they need Argentina to beat Poland. Argentina needs to win only to win the group, which is important if they want to avoid having to play France in the next round. Pretty important goal I would say given how good the French have looked.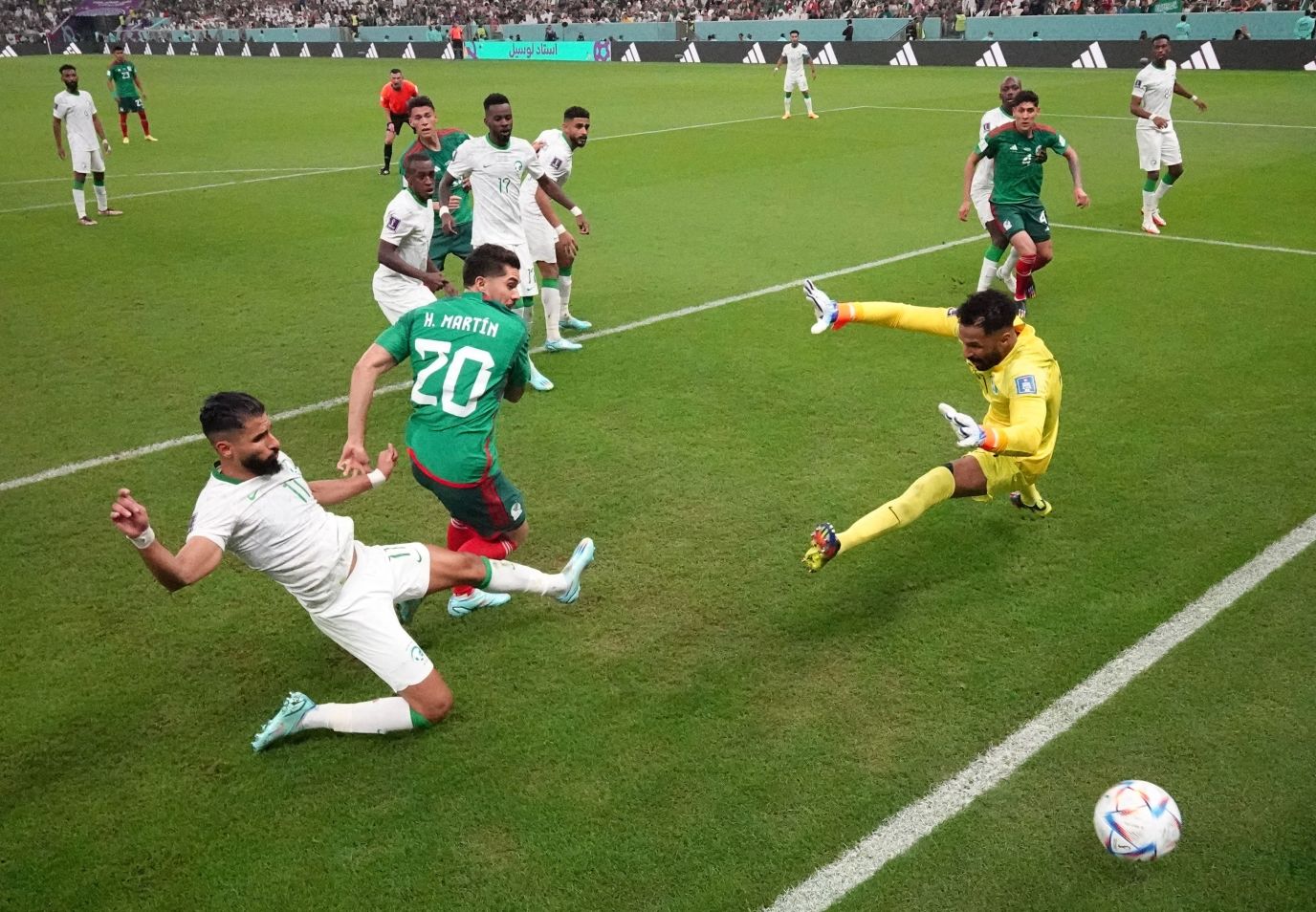 In minute 38, Messi is awarded a PK but Szcezny stuffs it. First goal since Brad Friedel to stop two PKs in one World Cup. Argentina far superior on the field. Poland showing very little. The same could be said for Mexico vs Saudi Arabia.
Group Chaos Report:
47': Mexico score. Henry Martin (#20) puts Mexico up 1-0. Mexico still needs more two more goals.
46': Argentina's Alexis McAllister (#20) scores. Mexico only needs one more goal to go thru ! Argentina avoids France and plays Australia.
52': Mexico's Luis Chavez scores (perhaps the goal of the tournament) on a curling free kick from 30 m out. Chavez's 4th shot of the game ! Mexico inching closer to the miracle. Do you believe in miracles ! (attribution to the great Al Michaels). Mexico 2-0.
55': Chucky Lozano scores again but he's offside.
68': Argentina's Julian Alvarez picks off top corner of the goal. Mexico and Poland tied on points, goal differential, goals scored. FIFA's 4th tie breaker is fair play (Poland 4 yellows to Mexico's 7). According to FIFA, Poland still squeak thru ! Uffdah !
66': Lozano with a low hard shot. Saved by the Saudi keeper.
70': Martin skys a shot right out in front. Impossible !
71': Messi shoots but a diving Szcezny saves. Messi would have tied the record for most goals in a World Cup (double check).
72': Luis Chavez strikes another free kick with a lot of pace, to the keeper's right but the Saudi keeper flies to save it.
73': Alvarez shoots and it just hits the outside of the net.
76': Pineda shoots just wide right.
78': Poland gets a yellow card. Poland 5, Mexico 7 !! In Yellow cards of course :).
78': Mexico surges towards the Saudi goal. Out in front of the goal, XX shoots but is an amazing defensive play by the Saudi central defender.
81': Lozano breaks forward after receiving a 30 yard pass from Luis Chavez and gets fouled one yard outside of the box.
87': Untuna scores but he's offside.
94': Saudi Arabia scores. Mexico can still go thru with one more goal.
97': Last frenzied effort as Montes heads across goal to Funes Mori who fouls the Saudi keeper.
Mexico 2 – Saudi Arabia 1
Argentina 2 – Poland 0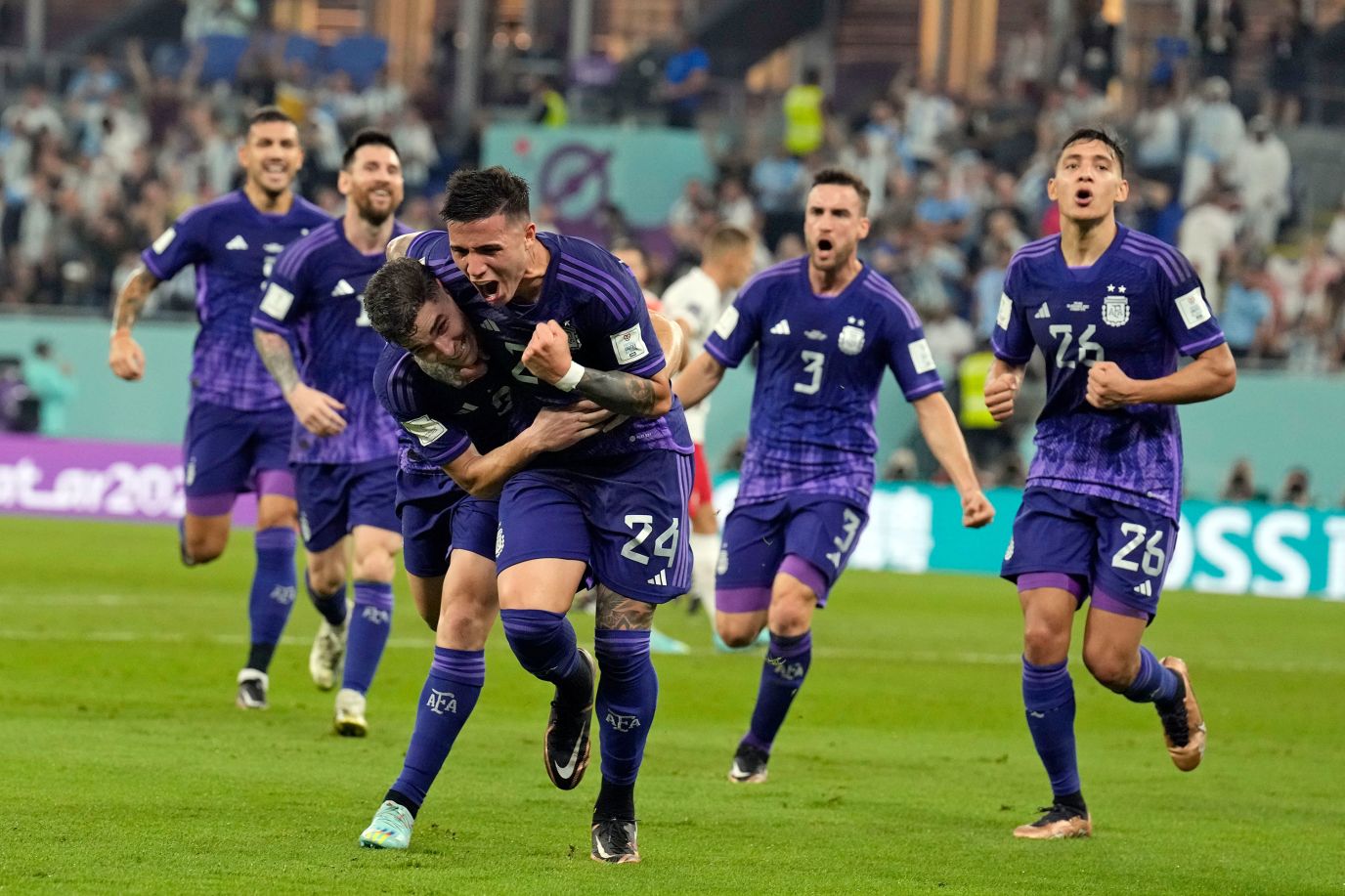 Argentina (1) and Poland (2) move on.
Moral of this story is obvious: Its not how you start but how you finish. Argentina, stunned 2-1 by Saudi Arabia in the opening game of the group, rebounded strongly to get two impressive wins over the two next best teams. A reminder of Spain in 2010 when they lost their opening game to Switzerland before running the table to win it all. Argentina, Argentina, Argentina !!!!
For Mexico, the lesson is also obvious. Play younger players period. I love HH and Guardado but they're too old to be starters at a World Cup. Except for Ochoa, who played magnificently, the older guard has got to go. Why weren't Diego Lainez (22) and Sebastian Cordova (25) picked to be on the team? Why didn't Uriel Antuna (25) and Charlie Rodriguez (25) play more ? Tata Martino learned the lessons the hard way. Hours after being eliminated, Martino gets sacked.
Poland plays France. As my good friend Salif says: "Allez les Bleus"
NOTE: I watched these two games deferred, alternating 10 minutes between each one and switching to the other game if a score is seen. That was an incredible viewing experience. That's SOS (Sports Operating System) Simultaneous View feature.
Group D
France are through no matter what. Denmark play Australia in an elimination game. They win they go through; if they lose they do not.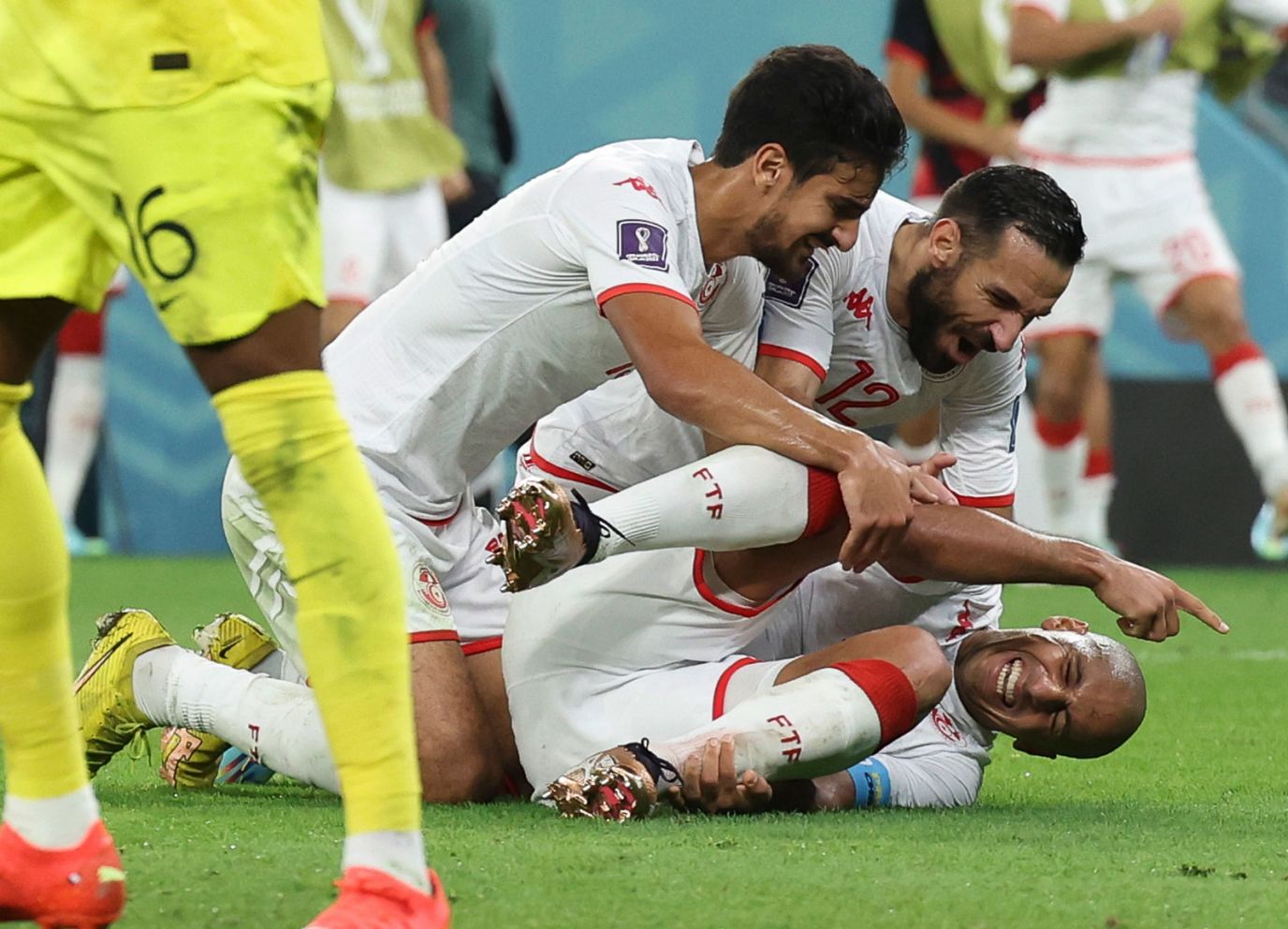 Tunisia was in to the next round until they were not. After going ahead 1-0, they resided in the second round for minutes before Australia scored itself in the other game. In deep stoppage, France equalized to stay undefeated in the group. After a VAR review, the goal was anulled. France lost after all. The VAR drama ! Even with the loss, Tunisia fans seemed happy.
Dummies know best. After what was 60 minutes of dreadful soccer, Australia broke through with a beautifully conceived and executed counter-attack. As the Aussies broke forward, a pass to the left flank reached Riley McGree after his teammate dummied the ball. McGree passed it ahead to Mathew Leckie who beat his defender with a cut to the inside then a cut back to the flank and then with a low hard shot to Schmeil's second post. Breathtaking stuff. At the most dramatic of moments. Tunisia had scored two minutes before to put Tunisia into the second round. This goal put Australia right back in and Tunisia out.
Aussie, aussie, aussie Oi, oi, oi !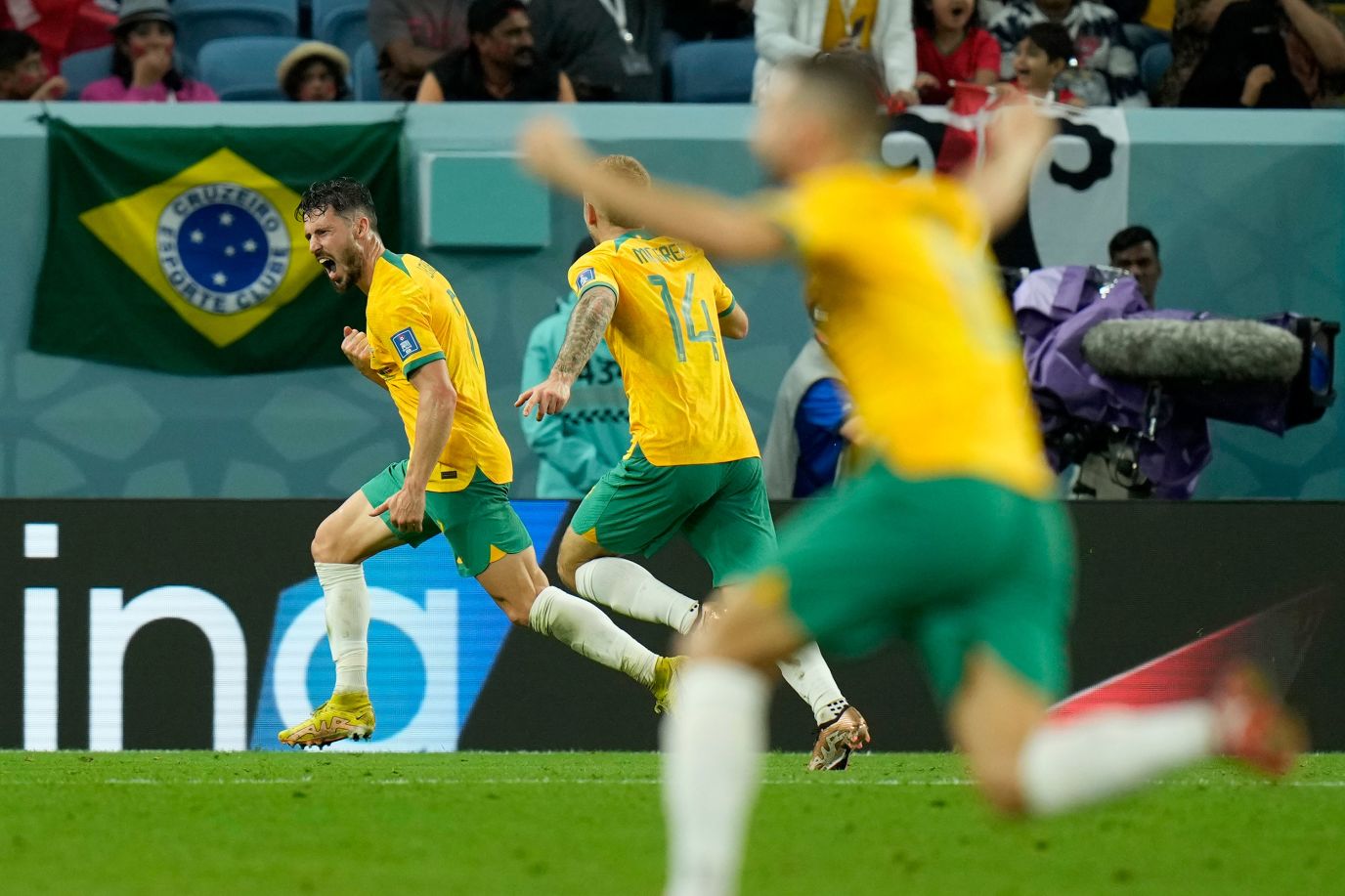 France (1) and Australia (2) go through.
Tunisia 1 – France 0
Australia 1 – Denmark 0
Group E
Spain (S), Germany (G), Costa Rica (CR), Japan (J)
Group Chaos Report:
11': Gnabry scores to get the Germans rolling. S/G thru.
11': Spain's Albaro Morata scores. S/G.
35': Mussiala walks in beating defenders at will but fires it wide.
43': Fuller picks up the ball in his box after a Ruddiger mistake and forces Neuer to make a great save. Fuller, who had only one shot against Japan and scored, almost does the same again.
45': Spain don't score a second but it doesn't look like it matters as they have 80% possession. Does Japan really have a chance ?
48': Japan has a chance. They start second half with high press, get a turnover and Doan scores on a cracker.
50': Japan score again. The proverbial ball into the "corridor of uncertainty" ends up in the back of the net. Goal-line VAR technology allows it ! Where's the frickin' video to prove it. J and S (higher goal differential than G) in.
58': Costa Rica's Yeltsin (yes Yeltsin as in Boris Yeltsin !) Tejada equalizes Neuer fumbles the ball and Tejeda smashes home the rebound !! WTF. J/S.
60': Sanneh smashes one off the back post. Ruddige hits a cross right off the post. J/S.
67': Musiala smashes a shot into the right post.
70': Costa Rica somehow, someway, improbably, score. Vargas' wild left-footed kick of a loose ball in the box goes past Neuer. J and CR now go in. As Ruth of Ozark so eloquently said, what the fuckety fuck !!
73': Kai Haverz scores after collecting a pas in the box, setting up his shot nicely with his left to his right. J/S.
76': Navas makes sensational job off of point-blank shot from Sanneh.
85': Kai Havertz scores again. J/S.
89': Fullkrug scores for Germany. J/S.
89': Olmo shoots straight at the keeper.
Japan 2 – Spain 1
Germany 4 – Costa Rica 2
Japan (1) and Spain (2).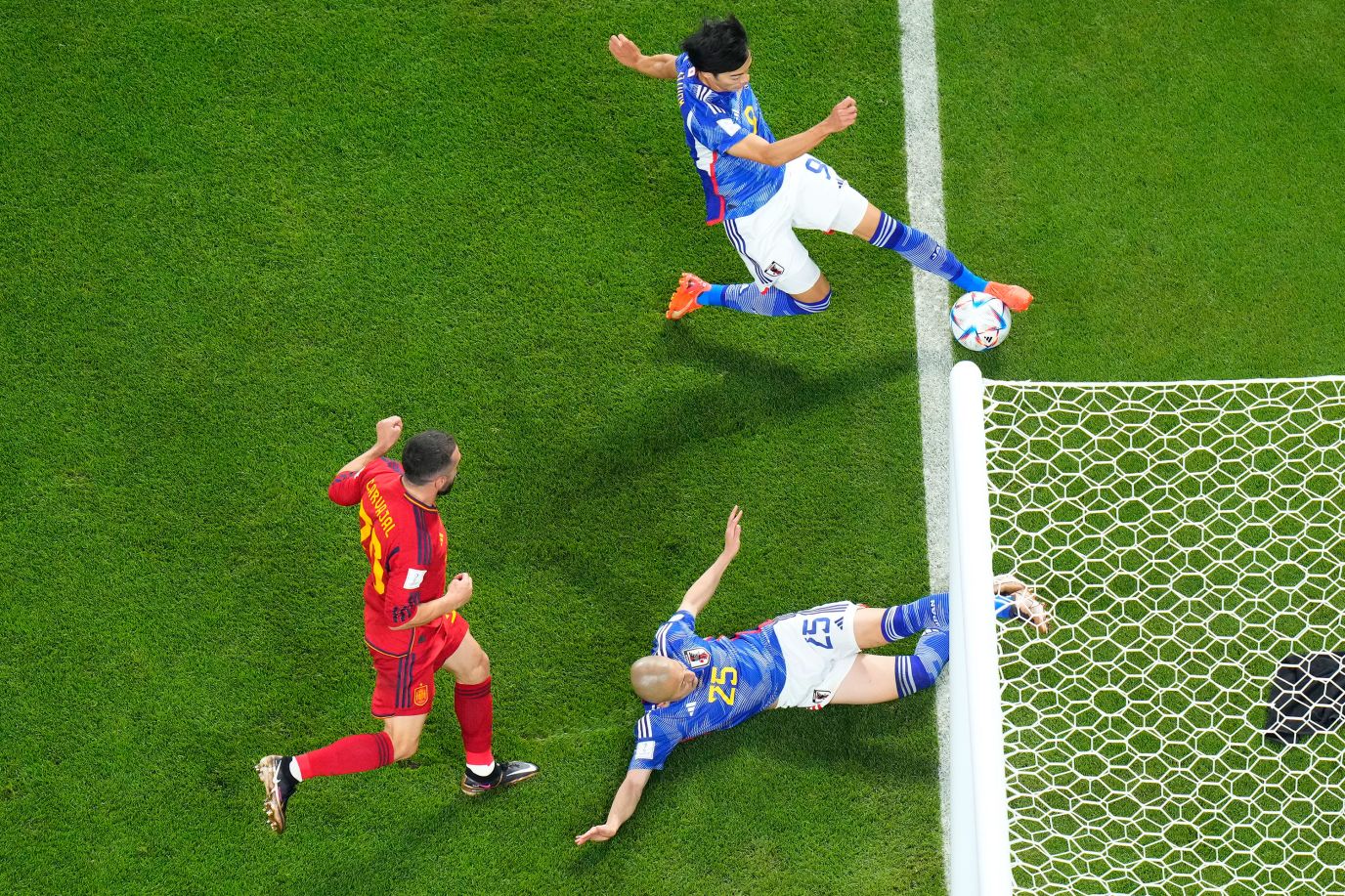 Watching both games simultaneously, beside it being a total pleasure, made me start thinking about why is it that Spain are the best possession team in the world ? W/y can't Germany, who have roughly the same amount of talent, do the same ? Why is it that Spain scored 7 on the Ticos but Germany could only get one in a half ?
And then the half happened, annulling everything written in the last paragraph. Everything has been turned on its head. I called this the GOD (Group of Death) back when the draw happened nearly a year ago. That, it turned out, was prophetic ! The one single moment when both Costa Rica and Japan were through was pure bliss !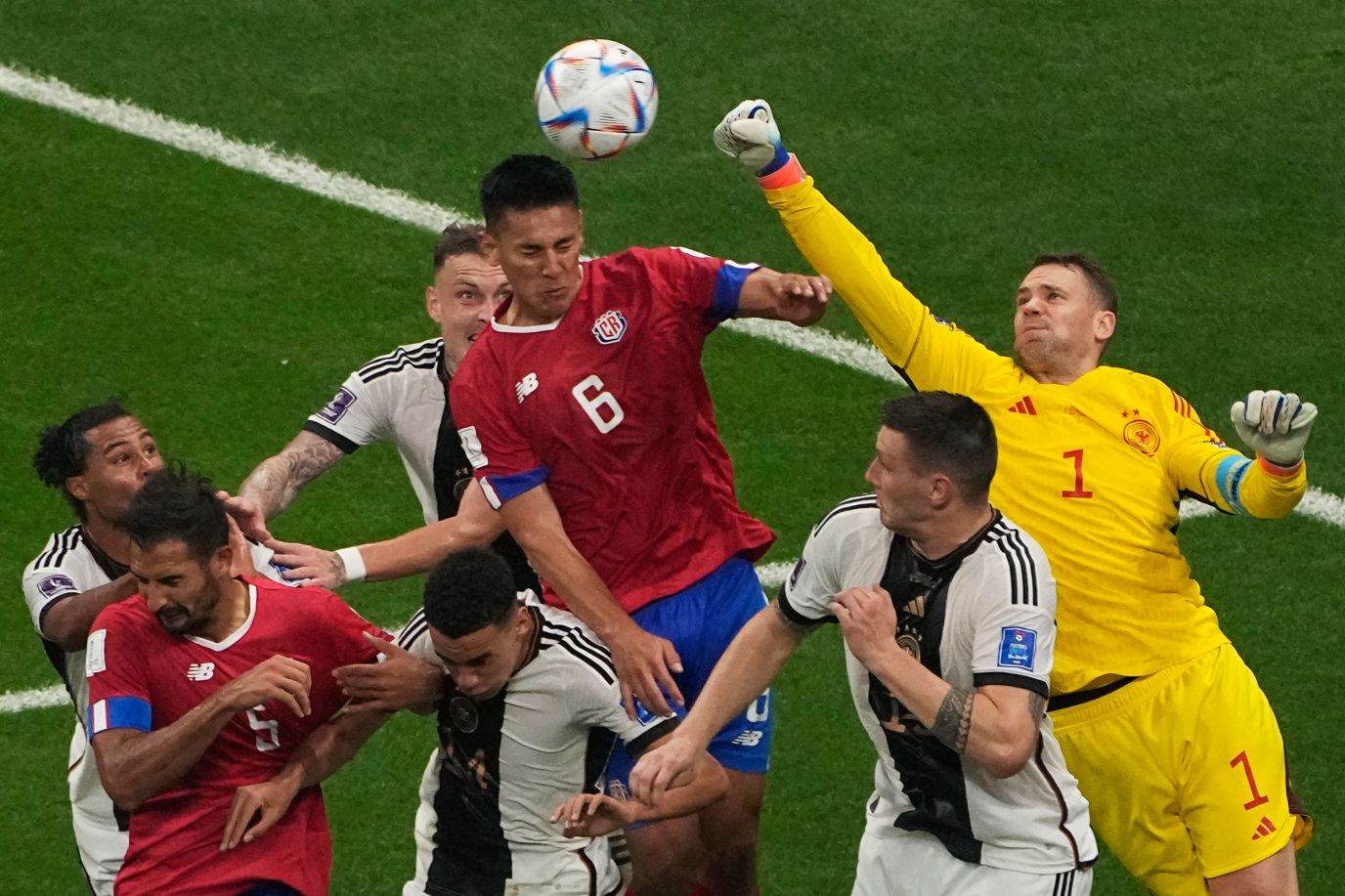 A true tale of two halves. More Dickens references. The motherfucker lives forever.
Group F
This group is very complicated. Canada are out. Otherwise it's wide open. Morocco (M), Croatia (Cr.), and Belgium (B) are stil in it. 
The running narrative explains it best:
Group Chaos:
5': Morocco scores on a easy chip by Ziyech as the new Canadian keeper takes a bad touch on a back pass and gives it right to the Moroccans. (1-0). M and Cr. thru.
15': Croatia get a PK. Luka lines up to take it. VAR takes it away. M and Cr. still thru.
23': Morocco strike again (2-0). En Nesyri outruns two Canadian defenders onto a perfect ball into space and beats Borjan at the near post. Second huge mistake by the substitute Canadian keeper (bring on Dayne St. Clair !!). M tops the group. M and Cr. thru.
40': Canada scores off of a hard shot to the keeper's near post deflected by the Moroccan defense. (2-1). M and Cr.
49': En Nesyri scores again. Official calls it offside. VAR doesn't reverse. (3-1) M and Cr.
54': Croatia attacking fiercely. The ageless Modric the engine of the Croatian team.
60': Lukaku hits the post !!!
61': Lukaku skies a header all alone in front of goal !!! Belgium just needs one frickin' goal and they can't get it. They've only scored one in almost 3 games.
71': Off of a corner kick, Canada's Hutchinson heads the ball off of the crossbar and down but the whole ball does not cross the goal line missing by what appears to be millimeters. On the replay it wasn't as close as initially thought.
87': Lukaku comes close again off of a cross. Belgium look energyless and consigned to the draw. Minutes later, Lukaku misses yet again. He chests it straight to the goalie. A bit later he's in front of goal but great defense denies him the last chance.
Morocco 2 – Canada 1
Croatia 0 – Belgium 0
Morocco (1) and Croatia (2) go through.
Morocco, so far, is the surprise of the tournament.
Group G
Brazil (B), Switzerland (Sw), Cameroon (Cm.), Serbia (Srb.)
Group Chaos:
11': Swiss hit the post. Rebound goes to the goalie. B/Sw.
13': Martinelli's header saved by 2nd Cameroon keeper (Onana had been sent home by coach Rigobert Song after shouting matches in Cameroon's camp).
20': Shakiri scores for Switzerland (1-0). B/Sw.
25': Serbia's Mitrovic equalizes for Serbia (1-1). B/Sw.
30': Shakiri collects a pass from Ricardo Rodriguez (RR) but misses his toe-poke shot.
35': Serbia's Vlahovic scores to make it 2-1. B/Srb.
44': Switzerland's Embolo equalizes for Switzerland (2-2). B/Sw.
48': Switzerland score again (3-2). B/Sw.
56': Martinelli denied again by a great save. Seconds later Epassy blocks it and scrambles to save the rebound from going in his far post. And yet another save from Antony's shot. Amazing goalkeeping sequence, only rivaled by Japan's goalie against Germany.
57': Embolo misses a point blank shot that would have iced the game.
92': Cameroon Obnokabar scores his 35th career goal and then takes his shirt off earning a second yellow card. (1/0) B/Sw.
92': Brouhaha in Switzerland vs Serbia
Cameroon 1 – Brazil 0
Switzerland 3 – Serbia 2
Brazil (1), Switzerland (2)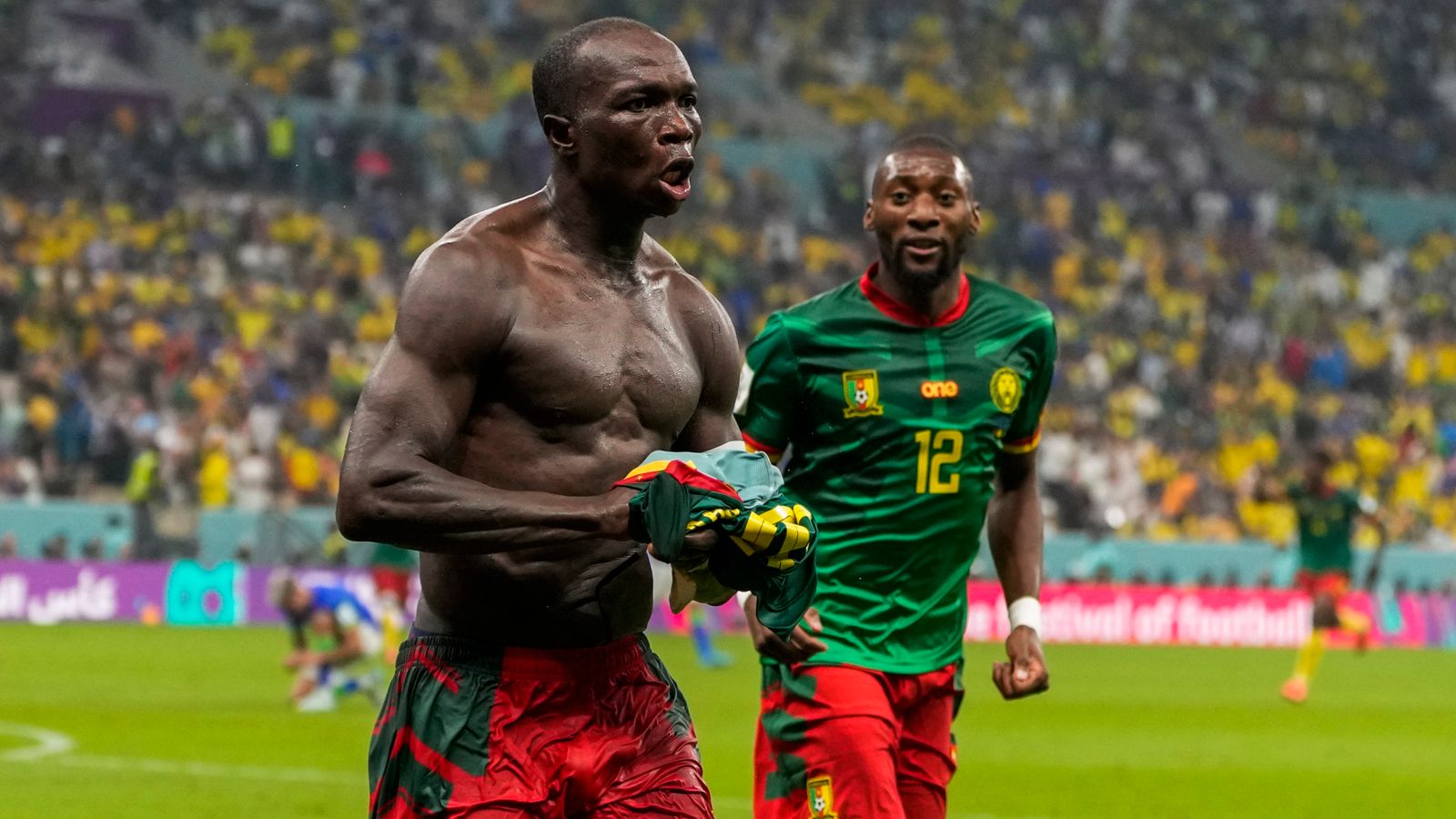 Group H
Portugal (P), Ghana (G), South Korea (SK), Uruguay (U)
Group Chaos:
5': Portugal's Ricardo Horta smashes home a cross. Pepe's 50 yd' pass to the right wing set the whole play up. (1-0) P/G
15': Possible PK check in Ghana's favor. VAR check gives the PK. Ayew's PK is stuffed at 20'. Ghana continues misisng PK's against Uruguay !! P/G.
26': Uruguay scores. Suarez dekes a defenders and shoots. The goalie makes initial save but De Arrascaeta heads in the rebound. P/U.
27': S. Korea score off of a corner again that deflects off the back of Ronaldo straight to the Korean player. P/U.
32': Uruguay scores again. De Arrascaeta nets his second, snatching it off the air after a clever flick from Suarez. Vamos Uruguay !! P/U.
58': Uruguay doesn't get a PK. Incredulous how VAR doesn't catch that.
67': S. Korea big shot saved by the Portuguese keeper.
80': Uruguayan keeper saves a bit shot from Ghana's Kudzu. Staying alive !
89': Cavani (El Matador) heads the ball and forces a spectacular save from Ghana's keeper, but it was offside.
91': Son runs onto a loose ball, dribbles the ball up 40 yards, holds up play, makes a cheeky little pass it to his teammate, who shoots and scores. P/SK.
96': Long range shot from Uruguay is saved. Seconds later, Uruguay's goalie makes a great save.
S. Korea 2 – Portugal 1
Uruguay 2 – Ghana 0
Portugal (1), South Korea (2).
South Korea beats out Uruguay on the 3rd tie breaker: goals scored.
Drama Ranking
This World Cup ranked three of the most dramatic third game simultaneous finishes ever seen in this competition. There were dramatic momentum swings, back and forth games, live tables in flux, with teams in and then out of the second run. In two groups, the dreaded fair play tie-breaker was, pardon the bad pun, in play to decide who stayed and who went home.
Group E:
The Group of Death gets the nod simply because of the swings in who was in. There was actually a moment where the two giants – Spain and Germany – were out of the group. It didn't last long but it was an incredible fantasy for the moments that it lasted. Costa Rica and Japan both being through was unbelievable.
Group B:
This is a very close second, simply because of the gargantuan task that Mexico had to pull out and they almost did it ! For a very long time (tens of minutes), Mexico were only down due to the fourth tie-breaker, FIFA's stupid fair play ranking. Saudi Arabia got one last goal so that that tie-breaker wasn't needed. Mexico were close to scoring that very needed third goal but just couldn't make it happen.
Group H:
South Korea's late winner made this group hang in the balance until the very end. Uruguay's spirited play made their entry a possibility until the Korean goal. Heartbreaking until the very end.