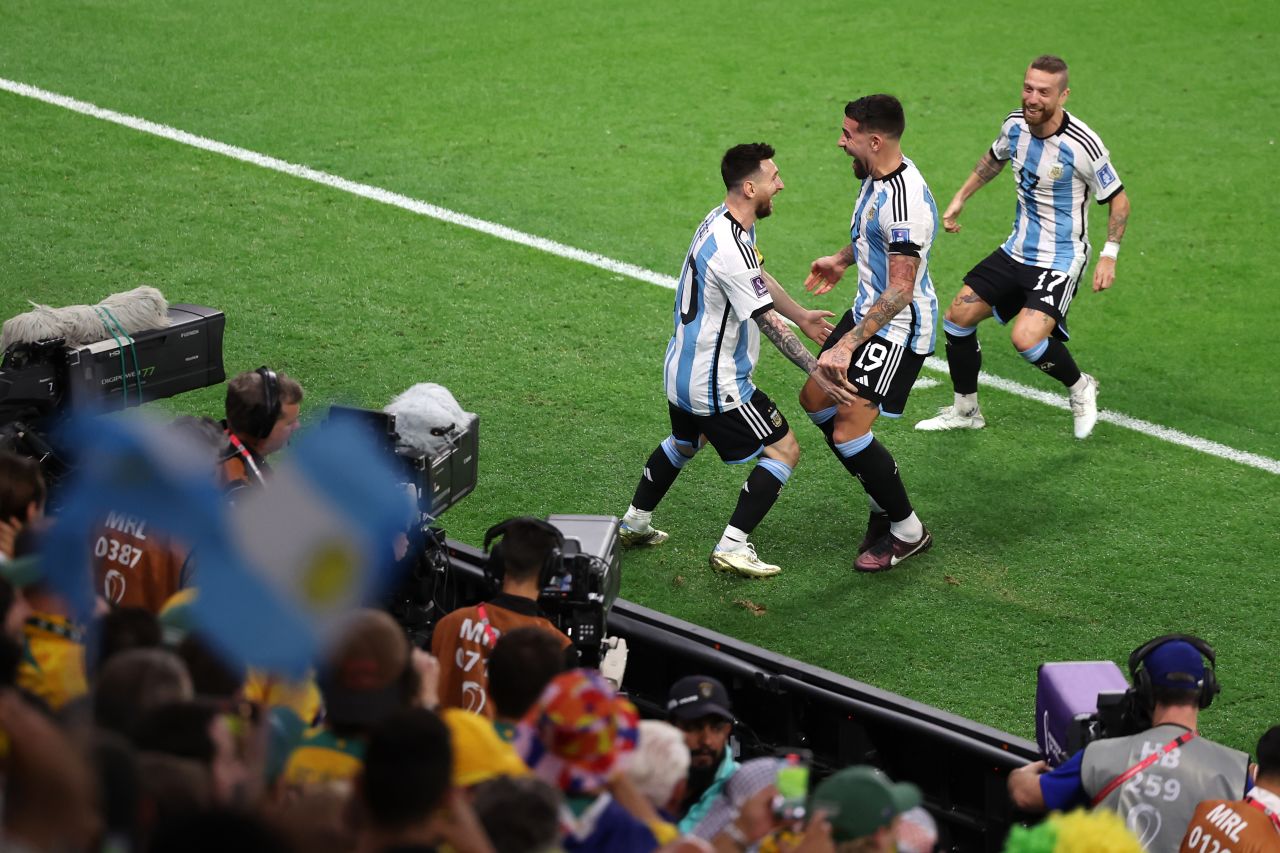 What's not to love about Lionel Messi ? He was the consensus sentimental favorite coming into the tournament. This was finally going to be the year that he won the Jules Rimet Trophy, the only major competition this great football player has not won. In 2021, Messi led Argentina to the Copa America title, breaking in the process, Argentina's almost 30 year trophyless streak. For Argentinians, where the sport is like religion, this had been a real source of shame. Messi finally led his team to victory, beating their great rivals Brazil in the final 1-0. The closest he had come to the World Cup trophy was in the 2014 final in Brazil against Germany only to lose in extra time.
Riding on the confidence and enthusiasm of the Copa America victory, this was supposed to finally be Argentina's year to win it all. The Argentinian team is as talented and complete as any other in the tournament, and Messi is still playing at an unbelievable level.
The Round of 16 game against Argentina was Messi's 1000th game ! This was his 169th cap !! Those kind of numbers were once only ascribed to the great Pele. Not even Maradona, who many Argentinians consider their greatest player ever, can claim that kind of excellence and longevity. But for many hinchas of the Albiceleste, Maradona's World Cup victory, is the only statistic that matters, the only trophy that has eluded Messi.
The tournament started ignominiously for the Argentines. Against Saudi Arabia, Messi converted on an early PK for a 1-0 lead. The team also scored a bunch of early goals, but unfortunately they were all negated due to offsides. Argentina seemed overconfident. Atthalftime, Saudi Arabia made adjustments that surprised Argentina and scored two goals to shock the world, and Argentina 2-1. All of a sudden, the path to the Cup seemed to be riddled with overwhelming obstacles. Two group games remained. One against historic rival Mexico and the other against a tough albeit limited Poland team that still featured one of the best strikers in the world.
Perhaps the best thing to happen to Argentina, the best chance to right the ship, was a game against Mexico, a team they had never lost to in World Cup competition. After a hotly contested first 60 minutes, Messi finally broke the game open when he rifled a low hard strike from the top of the 18 yard box past Memo Ochoa for the 1-0 lead. In soccer, the hardest goal to score is the first. Mexico, which had hoped for the 0-0 result, had to take on more risk in search of the equalizer. Argentina scored a second in the 87th minute when Messi passed to Enzo Fernandez, who after eluding a couple of defenders, picked out the top right hand corner of Ochoa's goal to score a beautiful goal.
Argentina, and Messi, kept their World Cup hope alive.
In the final game, Argentina completely dominated Poland and won 2-0. Argentina advanced to the next round as leader of the group to face off against Australia.
The game against Australia was played just 3 days after the last group game. Argentina, which I seriously believed were treated unfairly being denied one day of rest, beat Australia 2-1 to win their 3rd straight game. The game, however, wasn't as close as the score indicated. Argentina were completely in control the entire game. Only an own goal gave the Aussies what seemed to be a fighting chance, but although they had chances to equalize, Argentina had as many if not more chances to widen the lead.
Messi's goal came in the 35th minute, after he took over Ottamendi's touch in the box and fired a low hard shot past 3 defenders to the far post that beat Australia's keeper Ryan. There are a number of things that make this both a great team and individual goal. First of all, Messi is both the originator and finisher of this play; he is involved from beginning to end. But he gets plenty of support from his teammates in the entire sequence.
Messi initiates the play with a free kick into the box which is rejected by the Aussie defense but right back to Gomez, who quickly passes it back to Messi, who controls it superbly and then dribbles towards the box before passing it to Gomez and then continues his run into the box. Gomez one touch passes it to Otamendi. Otamendi gets a slight touch on the ball (was it really a pass back to Messi ?) before Messi pounces on the ball and finishes it.
Argentina's second goal came in the 57th minute off an error by the Australian keeper who tried to dribble out defense and lost the ball. Julian Alvarez quickly shot the errant ball into the back of the net.
Australia did close the difference getting an own goal that deflected off of Enzo Fernandez on a Brad Goodwin shot from way outside. In the 82nd minute, the Aussie's center back Behich made a nice run into the box, dribbling 4 Argentina defenders before his shot was blocked on a sensational defensive play by Lisando Martinez. The Aussies also had a chance deep into stoppage time when Kuol brought a cross down in the box and fired a good shot that was saved by Emiliano Martinez.
Argentina, for their part, had a multitude of chances as well, mostly as a result of the play going through Lionel Messi.
Messi's game has clearly evolved over the past years. He is no longer the player who tantalizes you with his dribbling, making Maradona-like runs for 50-60 yards eluding defenders at will before finishing with incredible goals That was Messi v1.0. As Messi has aged, he has reinvented his game, and is now proven to be as dangerous of a playmaker as he is a raw finisher. He can still dribble around a multitude of defenders but is not nearly as explosive as he once was. What makes him more dangerous now is his ability to pass out of those situations to set up his teammates. His ability to hold the ball at his feet at will allows him to slow the game down to a crawl. His vision allows him to find faster, younger teammates streaking into the wings on either side of him. He clearly demonstrated this in numerous occasions in the second half as Argentina worked to ice the game. Lautaro Martinez was the recipient of a number of those chances that he just could not put away.
For a player in his 1,000th game for club and country, he looks better than ever.
NOTES:
Argentina now play the Netherlands. There's a rich World Cup footballing history between the two countries. Most notably:

Netherlands win 4-0 in the 1974 World Cup Second Round, Group A game
Argentina beat the Dutch 3-1 in the 1978 World Cup Final in Argentina
Netherlands 2 – Argentina 1 in a 1998 World Cup quarterfinal
Argentina 0 – Netherland 0 (4-2 PK) 2014 World Cup Semi-Final
This quarterfinal game should be another classic as both teams are in great form.
https://www.11v11.com/teams/netherlands/tab/opposingTeams/opposition/Argentina/
https://www.thesoccerworldcups.com/head_to_head/argentina_vs_holland.php
For an excellent article about Argentina's corner kick style, see this article from the New York Times Rory Smith and Allison McCann (the lede describes the corner kick that led to the goal against Mexico; Argentina's goal against Australia was also constructed from a set piece in much the same way):